Jason is a Maker extraordinaire at the KEN neighborhood library. He has been updating our tumblr blog since the summer so we invited him to write a blog post for the MakerJawn site. Here it is!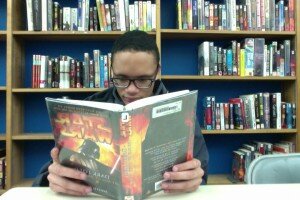 On a chilly day in September 2012 a quiet, shy 16 year old boy reluctantly makes his way into the Kensington Library, he is unaware of the fact that in one short year, his life will be altered forever by people whose very existence he is totally unaware of. The boy, whose name is Jason, begins his life at Kensington by volunteering for the position of Teen Leadership Assistant, he eventually earns the job, and he begins working as a TLA in the fall of 2013. The now fully hired, much more confident Teen Leadership Assistant begins working at the Kensington Library.
One month into his brand new job, a man named B.K. walks into the Kensington Library ­ and into Jason's life. B.K. is no ordinary patron, he is a member of the Maker Jawn Initiative, a group of people who mentor children in creative technology at various libraries throughout the city of Philadelphia. In the ensuing months the trickle that began with B.K. quickly becomes a flood as Kensington is filled to the brim with Maker Mentors. The mentors are there to stay, so it is only a matter of time before Jason crosses paths with them. Like a caterpillar in a cocoon, Jason slowly changes from shyly observing the Makers to having conversations with them and then participating in a few of their activities. The Maker Mentors introduce Jason to something that he had never seen or heard of before­ creative technology.
Many of the maker activities center around creative technology. Jason observed B.K. and the other Maker Mentors use objects such as cardboard and LEDs, as well as utilize playdoh and stop motion animation to turn everyday materials into amazing projects. He was amazed by the Maker Mentor's unique ability to "spin straw into gold'' and give mundane items an almost magical quality by molding them into creative masterpieces. He was surprised and awed when he realized that an item as simple as a toothbrush could be transformed into a robot capable of creating art once the Maker Mentors came in contact with it. He enjoyed visiting the Maker Mentors because they were always creating new and exciting projects. As a TLA, Jason knew what was expected of him, he knew what he was required to do each and every day, but with the Maker Mentors, Jason never knew what to expect, he never knew what they were going to do next, and that was one the reasons he loved interacting with them.
In the summer of 2014, the Initiative made the biggest impact on his life, as he worked with them for six straight weeks from July to August as a part of the College and Career Readiness Program. The Maker Mentors taught him essential skills during this time period and beyond, such as: self ­reliance, independence, teamwork, confidence, and collaboration. Over the next six weeks, Jason works with Kensington's Maker Mentor, Hannah Holby. Hannah is instrumental in introducing him to the art of creative technology, as they band together to produce amazing projects, including, handmade play­doh and paper mache, as well as an official Kensington Flag, and a wall structured miniature roller coaster. They also created zombie costumes and a ticking time bomb for Kensington Library's blockbuster movie: "Zompocalypse".
Working on the movie would prove to be an amazing experience, and was one the most memorable experiences of the program. I know the details of Jason's time with the Maker Mentors, because heand I are one in the same, we are Jason. I am Jason. The program had helped me discover a love for the art of making, so it was no surprise that at it's conclusion I began to work more closely with the Mentors. With their help, I was able to create new and exciting projects, such as a time capsule, and a Maker Jawn Initiative flag, as well as discover the joy of what would become my favorite maker activity: stop­motion animation. Stop motion animation is a filming technique in which objects are moved slightly, photographed, moved again and photographed. This process is repeated to make it appear that the object is actually moving. Stop motion animation would become a fun and exciting challenge for me and I would participate in several stop motion activities. I would also become head blogger for the Kensington Tumblr blog, and I blogged about the activities that took place in the Kensington Maker Room.
Thanks to the Maker Jawn Initiative and its Maker Mentors, I discovered a passion for art and creative technology that (hopefully) will stay with me and inspire me for the rest of my life. Their contributions mean so much more to me than just a place to hang out and make cool creations. I believe that the Maker Jawn Initiative has given me a sense of purpose. The interactions with the Maker Mentors are a source of comfort and joy because I know regardless of how my days went before I arrived at the library, once I am there, all the stress dissipates instantly and the weight of the world is no longer on my shoulders.
I would like to close this blog post by saying "Thank you'' to the Maker Mentors. Thank you for introducing me to creative technology. Thank you for helping me break out of my comfort zone and encouraging me to be more open­minded toward new experiences. But mostly, I want to thank you for helping me discover a side to me that I never knew existed. Thank you so much for everything!