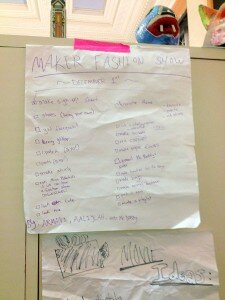 At Marrero we accomplished something great: a completely youth driven longterm project!
Without any prompting or cajoling by Mentors, two participants decided that they wanted to plan a library fashion show. Other participants quickly got on board, and we started the planning process. Together, we made a sign-up for participation, a task list, and a list of items to be made for the show. The position of photographer, videographer, bouncer, and interviewer were assigned.  The two primary planners also named themselves as "judges" who would score models on their walk and stage presence. Both boys and girls planned to walk in the show.
We talked about the type of work that typically goes into organizing a fashion show. With the help of Maker Mentor Bobby, the two primary planners drafted an email to a fashion student to ask her questions about what she does, where she gets her inspiration, etc.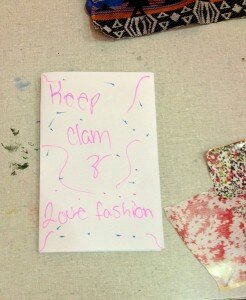 Participants made accessories for the show, including bow ties, hair bows, cuff bracelets, and bags. We cut a red sheet into strips and sewed them together for length, to make a red carpet. They also made signs to advertise, VIP tickets, and programs for the show with the tagline, "Keep Calm, Love Fashion".
The project made a lot of sense, based on the interest of our group. Everyone loves to sew, and a lot of the girls have said that they want to be fashion designers when they grow up. Organizing a fashion show was a great next step for them to take, and gave them a little more insight into the whole process. As Mentors, we sometimes made suggestions or offered help, but if the kids didn't want to take our advice, we didn't push it on them and let them do things their way. That's part of the process, letting them make mistakes and observe for themselves why certain things did or didn't work.
The day of the show one of the girls did everyone's makeup. The photographer documented set up, and everybody's looks. Things were a bit chaotic, but everyone had fun.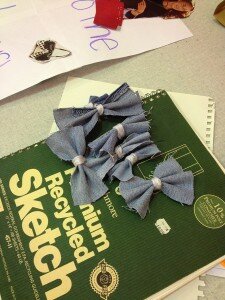 After the show, we asked the youth who did the planning about what they felt went well, and what they felt could have been improved. They had a lot of ideas about what they would do differently. And since they want to have another show in the spring, we can implement all the changes they'd like to make! They want more time to work on the show, since they had only given themselves two weeks the first time around, and realized that wasn't long enough to prepare. They also want to be more ambitious and make clothing as well as accessories. A playlist will be made ahead of time, instead of having music selections and requests called out on the spot. More advertising will be done and flyers will be made to get a bigger audience. They also want to rehearse more this time around.
I'm excited to see if we can put all these changes into practice for the spring, to make an event that they're proud of.
Rock on Marrero fashionistas!