This September the children and adults (Makers) of the Kensington Library Maker Jawn program began working on our 3rd movie of 2014. Our maker mentor, Shanise, helped guide the children in adapting Maurice Sendak's Where the Wild Things Are into a new spooky movie idea aptly named Where the Spooky Things Are. We set ourselves a Halloween deadline for the premier.
Our last two movies, Plan 19 From Outer Space and Zompocalypse, turned out well but had taken a long time to make. Our two month deadline was ambitious for us but we now had experience on our side. Making a movie in a small room with an unpredictable amount of participants leads to many challenges. It is impossible to depend on actors showing up so costumes have to be able to fit and cover different people. Having only one room to film in would seemingly limit our locations but we have a green screen which means we can travel anywhere. For the last two movies we used images from Google to be able to depict different settings but this gave us too many options and didn't always look great. This time children got to draw all the backgrounds themselves from their own imaginations.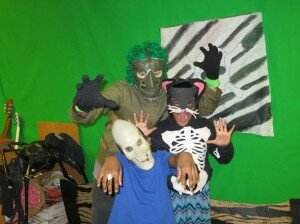 When we began to look at the footage I realized that using a children's book as the bases for the movie worked perfectly for our purpose. We are making a movie in a library after all so it seems only fitting to have a book be our inspiration. The children's drawings and straight on camera angle, a result of using a small green screen, gives the movie the look of a book come to life. In addition this approach meant that I had an excuse to read Where the Wild Things Are out loud to the Makers more then once. We also recorded the makers reading the pages from Sendak's book, with a few adaptations, as part of our soundtrack. In addition to making props, costumes, drawings, and sets, Makers also practiced reading and writing. Listening to the movie one can hear that reading, even after practicing, is something that our Makers need help with. Helping makers read with confidence wasn't one of the goals when we started making our movie but it became central to the finished project.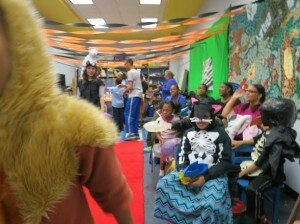 We premiered our movie on Halloween as we had planned. As always finishing a project feels great and it's even better when there are so many Makers to share the feeling with. We had over twenty Makers including families show up to chow down on popcorn and watch our movie projected on the "big screen." There are many ways that making a movie in a library is a challenge but it is definitely worth the reward of sharing a finished movie together. I hope to continue on this theme of bringing children's books to life not only with reading but also by making our own movie interpretations.