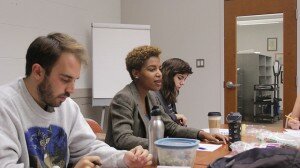 Last week I had the opportunity to run our weekly tinkering session. I was worried about how my ideas would be received. With the abundance of our focus being placed upon STEM and STEAM activities, l was afraid that literacy had gotten lost in the shuffle of technology.
To be honest, I was a little apprehensive about even bringing up the idea of increasing literacy within the maker program. But after the summer PYN, program ended and we all went back to our regular schedules, I noticed that children across all age groups were struggling tremendously with reading. It put me in such a state of distress. Reading and writing are my life and it's pretty much been that way since I was a toddler. The thought of children struggling with literacy and missing out on the joys of reading left me feeling quite unsettled. At first I thought I should not say anything because I didn't want to impose my personal interests on anyone. Plus I didn't even know if it was my place to say anything.
I knew I had to put my anxiety aside and voice my concerns about this growing issue. So I started off my literacy endeavor by asking some of the other makers if they had noticed any children struggling with reading and most said they did. Hearing that made the issue even more real and increased my urgency to find someway to strengthen literacy within the program.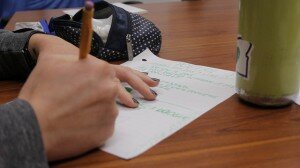 My first step was to compile ideas to make literacy appeal to the agenda of the maker program as well as kids growing up in the age of heightened technology. I approached the group with the idea of having the kids create audiobooks. It was the perfect fusion of literacy and technology. The group liked the idea and saw the importance of literacy being present in our program.
The kids at the Paschalville branch responded well to the idea. By listening back to themselves reading, they were able to point out their own points of weakness and take active steps to correct them. The amazing component of the audiobook project is that that the children get to assess their reading and comprehension skills all on their own. It does something for one's self-esteem to not have someone else point out their struggles. Now the kids have taken it a step further and begun writing, composing,recording their own songs. They are also learning how to create their own album covers.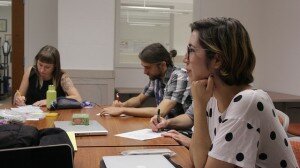 But back to the tinkering session, I had two activities set up. Along with the audiobook, I had suggested we try partner poetry. Partner poetry is writing a poem based around the details that your partner gives you from a chosen topic. I selected a few topics: personality topics, halloween, things you don't like, favorite things about Fall, things you would like to change about the world. The most popular topic amongst the group was things I don't like. It was interesting to see how everyone interpreted the topics and arranged their poems. No formal poetry structure was required for the activity but some of my fellow makers did try their hands at haiku's. After we finished writing our poems, some of the makers recorded their poems in a quiet corner in the hallway. I put them all together to create a mini audiobook of poetry, which is attached for listening in this post.
As a writer, I struggled to find my place within in the maker structure. I've never done many of the activities that we do throughout the branches. I often felt like one of the kids and that used to discourage me quite a bit because I was worried that my skill set had little value here. I was wrong. I found a happy medium by fusing my love for literacy with the technology projects. Literacy and technology can exist harmoniously together. I'm really looking forward to seeing what the other branches do with the literacy projects and how the kids respond to them.