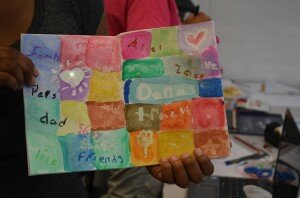 Maker Jawn recently participated in the Girls on Fire workshop. Organized by Philadelphia educators and community organizers Samuel Reed III and Peggy Marie Savage, Girls on Fire was geared towards sparking and sustaining the creative interests of middle school and high school age girls. The program was part of an initiative to give kids a summer head start in preparing for the Scholastic Arts and Writing Awards, and some materials and guidance were provided by the National Writing Project's Hack Your Notebook Day initiative.
We had a great time at the workshop, which featured a diverse set of activities, including poetry, essay writing, and collage and painting techniques. We even got to kick things off with some yoga! The format for the workshop was very open, and girls were allowed to make their way to the different activities at their own pace, and choose what they wanted to prioritize. Many made projects that incorporated several of the skills and techniques being taught.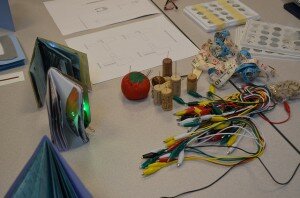 Maker Jawn's contribution was an instructional on copper-tape notebooking. Girls learned simple bookbinding techniques, so they could construct their own notebooks, and were shown how to make a simple copper-tape circuit with several different types of switches. We also put an emphasis on discussing the practice of keeping a notebook or sketchbook, and how it can be a judgement-free zone, like a diary, to experiment with, track, and work out creative ideas. For inspiration, mentors showed off examples of copper-tape notebooks they made during a super fun "tinkering session". (Tinkering sessions are weekly meetings where Maker Jawn staff get together to experiment with or learn a particular skill or making technique. We consider it essential to professional development, and maintaining a sense of play and exploration.)
To give participants an idea of where they could go with maker projects, mentor Leslie also showed off her wifi-connected, color sensing, LED umbrella! The built-in wifi and color sensor allow it to change colors like a chameleon to match it's surroundings, or to indicating current weather conditions.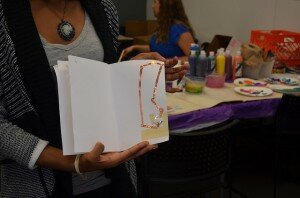 At the end of the workshop, all the girls shared their projects, and got to see what everyone had accomplished. As a parting gift, Maker Jawn distributed copper-tape notebooking tool-kits to each girl.
Our hope is that they continue to explore paper circuits at home, use it as a gateway to other maker activities, and share what they're doing with siblings and friends!